Wow, I cannot believe that there are only three more days until Christmas! Is it just me or has this holiday season just flown right by? However, with Christmas coming up quick, for those of us who celebrate it, means that there are many Christmas Eve and Christmas parties in the upcoming days as well, and if you're anything like me you might be trying to plan the best outfits for this year's Yuletide events. So in order to help you (and myself) brainstorm, I've decided to put together this holiday party style guide, which I am sure will have a little something for everyone as well as every occasion.
Greensleeves
This first look if perfect for a holiday cocktail hour with your girlfriends. Due to this green, lace dress' fun hemline and short cut, it's sure to be a show stopper at all those trendy Christmas pop-up bars and shops I'm sure you'll be hitting up. And of course you need some shimmery accessories to accompany this playful look, so try pairing it with these gorgeous earrings and fun faux pearl studded bag. Then, to complete this look, you can try something a little unconventional and pair it with these fun over the knee boots! (So this way you'll be rocking one of the hottest trends this winter and you'll keep your legs warm.)
Items Left to Right: Green Lace Dress, Gold & Bronze Earrings, Faux Pearl Studded Purse, Over The Knee Black Boots.
Rudolph Reds
This next outfit is a great choice for your office Christmas party. The reason this dress is a great choice is for this occasion because it is not overly formal and is comfortable for wear around the office, but also because it is super chic and easy to glam up a bit. To add some shimmer to this fabulous number, I paired it with a layer necklace along with a gorgeous gold and berry bracelet, along with this pretty envelope clutch. Then to top off this outfit, I chose to pair it with these nude, lace up stilettos.
Items Left to Right: Red/Orange Bell Sleeve Dress (Love this dress? See how I styled it here!), Layered Necklace, Gold and Berry Bracelet, Black Glitter Clutch, Lace Up Nude Stilettos.
Starry Night
The next look is for a more formal occasion, and features this beautiful star studded evening dress. Due to this dress' elegant nature, I chose to keep its accessories simple with a gorgeous rose gold pendant necklace and simple evening bag. But to up the wow factor, though this dress is gorgeous enough on its own, I chose to wrap up this formal look with these show stopping, diamond strap heels.
Items Left to Right: Black Star Mesh Evening Dress, Rose Gold Pendant Necklace, Black Evening Clutch, Diamond Ankle Strap Heels.
Blue Christmas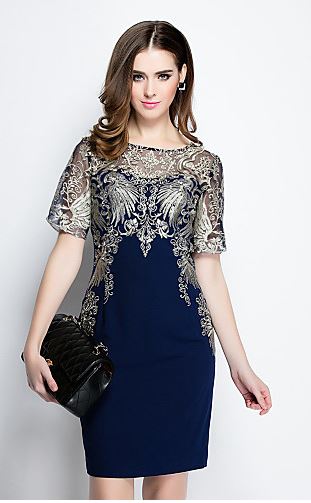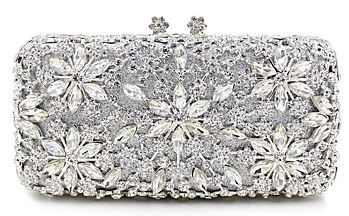 For those of you who want to put a twist on the classic holiday colors, I also always am a fan of the color blue for Christmas simply because it is so underrated this time of year. So, for the outfit I chose to style this pretty blue and silver lace dress. (Doesn't the lace remind you of frost? Which is totally perfect for this time of year.) The reason I chose this dress is because it is super versatile, meaning you can wear it to just about any type of holiday party without it being inappropriate. To style this piece, I chose some gorgeous drop earrings, a beautiful crystal clutch, and to complete this look I chose some faux pearl accented, glitter pumps.
Items Left to Right: Blue & Silver Lace Dress, Silver Drop Earrings, Crystal Clutch, Faux Pearl Accented Glitter Pumps.
Naughty or Nice
This next pretty holiday look is perfect for your more semi-formal occasions with friends and family. Much like the first outfit in this guide, this two piece dress would make for a perfect cocktail outfit while out with your girls, or even just for a casual holiday brunch with your family. To accessorize this pretty two piece, I chose to pair it with a gorgeous delicate choker, a fun fringe cuff, and a plain but chic evening clutch. And to add some extra shimmer to this outfit, I decided it would look best with some diamond accented heels.
Items Left to Right: Red Two Piece Dress, Delicate Gold Choker, Gold Fringe Cuff, Red Evening Clutch, Red Diamond Accented Heels.
Silver & Gold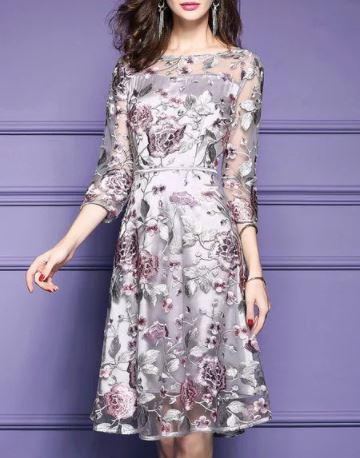 This last look is one of the more traditional variety. For this outfit I chose to go with this classic silver dress, which would be perfect for those of us who have traditional family Christmas parties to attend. The reason I went with this silver dress is simply because its just so pretty and its classic cut would be flattering on anybody. To style this gorgeous classic, I chose some pretty chandelier earrings, a nifty clutch, and some pretty, bedazzled pumps.
Items Left to Right: Silver Dress, Chandelier Earrings, Silver Clutch, Bedazzled Pumps.
What are you wearing to your holiday parties this year? Let's chat about it in the comments below or you can tweet about it at @StarkRavingChic! Wanna show off your favorite holiday party outfit? I'd love to see it! So feel free to tag me in your Instagram story at @StarkRavingChic. Later, babes!
Xx, Bree
P.S. Psssssst! If you love the jewelry in this post as much as I do, you can try Rocksbox for a whole month 100% FREE when you sign up using my promo code "starkravingchicxoxo". Don't know what Rocksbox is or how it works? You can learn more here!
Also, I am now a proud member of rewardStyle and LIKEtoKNOW.it! Meaning you can shop straight from my Instagram feed when you click here or here. Don't know what LIKEtoKNOW.it is all about? Learn more, here!